Exhibitions
Les Caves du Louvre, February 2018

Ethereal Paris: Démons et Merveilles - Espace des Arts Sans Frontières, May 2018

SLIMI Magazine #7
14 pages + interview
"At Slimi, we strive to bring attention to artists whose work is provocative, thought-provoking and, above all, original. What good is art if it does not inspire the viewer-the uninitiated and the expert alike - to feel something?"
The Phoblographer
Louis has in fact been making rounds in social media and film photography circles precisely for this technique. I'd even go as far as saying, if the (mostly digital) trend of neon night portraits has Brandon Woelfel, the doubles-struck community of film photographers has Louis Dazy. And I can't really blame them for wanting to emulate the look of his work. He offers us a great perspective of city life and the different moods it brings. Sometimes, it's melancholy; other times, it's youthful and energetic.


Open Minded
Baignant dans une lumière électrique, ses jeunes sujets vivent leurs nuits libres et sans contraintes. Ne retravaillant légèrement que la colorimétrie, les moments de vie donnent à voir une jeunesse qui fait corps avec son environnement et jouit d'une nuit sans limites, mais toutefois emplie d'une certaine mélancolie.


Lomography

Louis Dazy se balade la nuit, traverse les places vides, capture les lumières de la ville sur ses pellicules. Souvent deux fois. Cette fois-ci c'est avec notre Petzval 58 Bokeh Controlque Louis s'est baladé dans les rues de Paris.
Il nous parle aujourd'hui de multi-exposition, de son inspiration et de ses projets.
Palace Costes Magazine #69

"Les néons sont des clins d'oeil dans la nuit. Des signaux qui dansent, des messages électriques qui proposent toutes sortes de services et de délices. Le langage de la ville, quand les murs et les vitrines veulent nous parler et nous séduire. Les néons sont aussi parfois des éclats tristes, des messages blafards qui clignotent dans la brume et le froid des nuits sans sommeil. Le photographe Louis Dazy fait des portraits de nuit, éclairés à la lumière des néons où les visages se mèlent aux messages. Pour dire que la nuit va être belle et longue. Les néons sont des fleurs mélancoliques."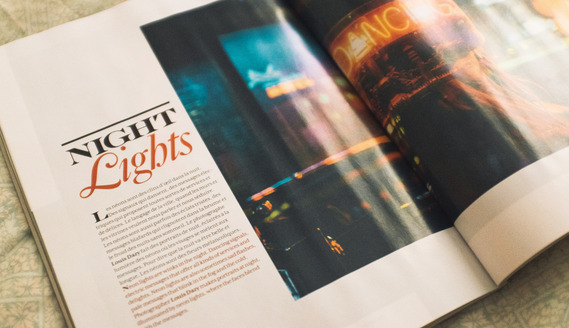 Fubiz
"We selected some of the many pictures taken by the photographer Louis Dazy. Just by observing his photographs, this artist based in Paris immerse us in an urban world full of fantasy. Bathed in an orange-yellow light or a tinted electric blue with red neon lights, his photographs depict people who aseem to be his friends. He captures moments of life through which reign a host of mood and feelings, between melancholy, complicity and seduction."
Cheese by Konbini

"S'il n'a que 27 ans, Louis Dazy possède déjà un univers artistique affirmé. Mettant en scène de jeunes modèles, ses portraits nocturnes dévoilent une atmosphère empreinte d'onirisme. La singularité de son projet repose également sur l'emploi de la double exposition, une technique permettant de superposer deux images pour n'en faire plus qu'une.
En maniant ce procédé, l'artiste basé aujourd'hui à Melbourne, en Australie, révèle ainsi des portraits nocturnes singuliers. Les visages capturés dans un environnement relativement sombre s'éclairent alors sous les lumières de la ville ou des néons."




Empty Kingdom

"Louis Dazy is a photographer based out of Melbourne, Australia, with a beautiful ethereal color palette and a double exposure technique."
Lomography
"Double exposures will always have a place in any Lomographer's heart so we should all make room for the works of Louis Dazy. These beautiful images are the results of passion and experimentation. There's no way to tell how a shot will look like until it's developed and printed but Louis makes it look like he's got it all dialed down to a complete science.
One look at these photographs and you'll know that Louis and his subjects are all free spirits. They wander, experience new things, just live in the moment. Louis is particularly adept at creating images that capture energy and emotion while maintaining a keen eye for details, framing, and focus."
Le Beau Bug

"Louis Dazy est un jeune photographe qui a fait de la double exposition le cœur de son projet artistique; il s'amuse donc à superposer différentes photographies qu'il a réalisé pour nous livrer des portraits éclairés par des néons, des palmiers à échafaudages, des visages qui se fondent dans des paysages… Son travail est réalisé à l'appareil argentique, ce qui donne à ses images rêveuses une réalité matérielle au grain si unique. Il photographie avec grand appétit, saisissant ainsi les visages de ses amis, capturant les moments qui défilent de sa vie, nous donnant à voir un comme un témoignage de sa jeunesse en reportage."
Pop' Up

"Si vous êtes un peu sensible au sujet le prochain participant n'est pas un inconnu, Louis Dazy est un argentiste reconnu comme portraitiste ascendant multi exposition. Sa ligne directrice est fixe et nous présente des portraits mélangés à son contexte où le grain, les couleurs et en majorité les néons de la ville viennent s'ajouter pour un résultat efficace. Si on insiste en parcourant son travail on finit par se demander si on vit sur la même planète tant la vision est très cinématographique."